Loading
This site is a publication of the
Program on Corporations, Law & Democracy
REAL Democracy History Calendar – sign up!
Move To Amend Campaign:
We are pleased to announce the creation of a new resource: the REAL Democracy History Calendar.
You are invited to sign up to this new free weekly email resource – to be sent out beginning January 1, 2016. To sign up, click here.
Corporate entities and individuals of extreme wealth have to a major extent captured our government and economic institutions. Basic political, economic and human rights are in decline. The result is a lack of real democracy — defined as the ability of those who are affected by decisions having an authentic voice in the shaping of those decisions.
However, people have always strived for basic rights, resisted oppression, created alternative structures, and sought to control the power and influence of corporate entities and extreme wealth in society through education, advocacy and social movement organizing.
To sign up, click here.
The REAL Democracy History Calendar will provide 1-2 listings per day sent by email every Monday morning of activities, events, quotes from prominent individuals and/or other occurrences (both past and recent) on the themes of democracy, human rights, corporate power and rule, and wealth in society (especially in elections).
The Calendar is a joint production of the Program on Corporations, Law & Democracy (POCLAD) and Northeast Ohio American Friends Service Committee (AFSC). Much of its base comes from our research and writings on these themes over the last two decades.
Our goal is to inform, intrigue and inspire — and to illuminate the reality that creating real democracy will not happen by changing any one politician, passing/repealing any one law or regulation, or reversing any single Supreme Court decision. It requires, rather, changing our political, economic and social culture - one byproduct of which will be to democratize our legal structures through genuinely inclusive, multi-issue, nonviolent social movements.
To sign up, click here.
Below are a listing of postings over the next several weeks – to provide a flavor of the Calendar's contents that would be sent by email each week beginning January 1.
If you feel this would be valuable information to you, please sign up here. And please spread the word to others!
Thank you for your consideration.
REAL Democracy History Calendar
December 14
1799 – Death of George Washington, first President of the United States of America – need for coercive power
"We probably had too good an opinion of human nature in forming our confederation. Experience has taught us that men will not adopt and carry into execution measures the best calculated for their own good, without the intervention of a coercive power," said George. According to historian Charles Beard in "An Economic Interpretation of the Constitution of the United States," Washington was probably the richest man in the colonies at the time of the Revolution.
1896 – Covington & L. Turnpike Road Co. v. Sandford (164 U.S. 578) Supreme Court decision – corporations are persons
The Court declared, "it is now settled that corporations are persons, within the meaning of the constitutional provisions forbidding the deprivation of property without due process of law, as well as a denial of the equal protection of the laws."
December 15
1791 – Ratification of the Bill of Rights
The first 10 Amendments to the Constitution were adopted to protect We the People from excesses of government and to affirm certain inalienable rights of human beings. At the time, however, We the People were only white males who owned property and were over 21 years old. Each state decided how much property must be owned to qualify to vote or run for office
1986 – Justice William Brennan delivered opinion of Supreme Court in Federal Election Committee v. Massachusetts Citizens for Life, Inc. (479 U.S. 238) – spending by corporations in elections may make them formidable power
"Direct corporate spending on political activity raised the prospect that resources amassed in the economic marketplace may be used to provide an unfair advantage in the political marketplace…The resources in the treasury of a business corporation…are not an indication of popular support for the corporation's political ideas. The availability of these resources may make a corporation a formidable political presence, even though the power of the corporation may be no reflection of the power of its ideas."
December 16
1773 – Colonists stage Boston Tea Party to protest British Tea Act
Parliament passed the Tea Act, which provided the East India Trading Company complete access to the colonies and exempted it from paying taxes to the colonies – increasing the profits to company stockholders, which included Parliament members and the King. This undercut colonial tea merchants who were required to pay taxes on tea.
Boston Tea Party participants saw themselves as anti-corporate protestors. Their call for "no taxation without representation" was not one against paying taxes, but rather an insistence that every entity – including the East India Company – should pay their fair share and that no entity should be taxed without governmental representation.
December 17
1964 – Death of Alexander Meiklejohn, Philosopher and Educator – on 1st Amendment and freedom threatened by dominant business enterprises
The 1st Amendment "does not intend to guarantee men freedom to say what some private interest pays them to say for its own advantage. It intends only to make men free to say what, as citizens, they think."
"[I]nsofar as a society is dominated by the attitudes of competitive business enterprise, freedom in its proper American meaning cannot be known, and hence, cannot be taught. That is the basic reason why the schools and colleges, which are, presumably, commissioned to study and promote the ways of freedom are so weak, so confused, so ineffectual."
December 18
1882 – Death of Henry James, Sr. – on democracy
"Democracy is not so much a new form of political life as a dissolution and disorganization of the old forms. It is simply a resolution of government into the hands of the people…"
December 19
2009 – Publication this month of article, "People as Property: Criminalizing Color, Dissent and Impoverishment through the Prison-Industrial Complex" by Karen Coulter, principal of the Program on Corporations, Law & Democracy (POCLAD)
"Slavery and involuntary servitude were supposedly abolished by the 13th amendment to the Constitution. However, the amendment reads that slavery and involuntary servitude shall no longer exist in the U.S. 'except as punishment for crimes whereof the party shall have been duly convicted'…Then there are the investors in the prison industry: American Express Corporation invested millions in private prison construction in Oklahoma; General Electric Corporation financed prison construction in Tennessee; Goldman Sachs, Merrill Lynch, Smith Barney, and other Wall Street investment firms made big profits by underwriting prison construction with the sale of tax-exempt bonds, a 2.3 billion dollar industry as of 1997. Some of the largest Wall Street investment corporations started buying bonds and securities from private prison corporations in the '90's and reselling them for profit to individual investors, mutual funds and others, literally speculating in the growth of locking up more and more people. The rise of the prison industrial complex can be accurately seen as part of a profound transformation restructuring U.S. economic development and its forms of social control. Philip Wood identifies corporate colonization of decision-making structures as a key element of the changes in U.S. public policy supporting the expansion and privatization of the prison industry." http://www.poclad.org/BWA/2009/BWA_2009_DEC.html
REAL Democracy History Calendar

December 21-27
December 21
1885 – Corporate lawyers claim railroad corporation's 14th Amendment rights violated
In San Mateo v. Southern Pacific R. Co., 13 F. 722 (C.C.D. Cal. 1882), corporate lawyers attacked a provision of the California Constitution that assessed higher property taxes against railroad corporations than against non-corporate properties. The attorneys charged that the state violated the railroad's "rights" under the Equal Protection Clause of the Fourteenth Amendment. The parties settled the case before the Supreme Court announced a decision; however, the argument would be used one year later in what would become the very first time corporations were granted 14th Amendment "rights" by the Supreme Court in Santa Clara County v. Southern Pacific Railroad Company, 118 US 394.
December 22
1970 – Birth of Senator Ted Cruz (R., Texas) – politicians are open to the highest bidder
"Lobbyists and career politicians today make up what I call the Washington Cartel. … [They] on a daily basis are conspiring against the American people. … [C]areer politicians' ears and wallets are open to the highest bidder."
December 23
1913 – Congress passes Federal Reserve Act – Creating Federal Reserve System
The Act created a largely corporate controlled national banking and currency system, passed in the House by 298-60 and in the Senate by 43-25 and signed by President Wilson on this day. It was a major coup for banking corporations through the establishment of a private central bank authorized to "monetize" government debt (i.e. to print their own money and exchange it for government securities or I.O.U.'s). The central banking system was composed of 12 regional private/corporate banks owned by participating commercial banks. All national banks were required to join the system. Banking corporations now controlled the issuance and distribution of our national currency. By controlling our national money faucet, they could create inflation and deflation. This corporate monopolization of our currency allowed for public regulation, but not control. It was now banking corporations, not the U.S. government, that controlled the national currency. Congress handed its Constitutional power under Article 1, Section 8 to create our money over to private banking corporations. It's the ultimate form of "privatization" – more accurately "corporatization" – of what was meant to be, and should be a public function or service.
December 24
1962 – Birth of David Cobb, national Outreach Director for Move to Amend and principal of the Program on Corporations, Law & Democracy (POCLAD)
Cobb debated James Bopp in September, 2014 at Indiana University in Bloomington, IN on "Citizens Divided: Corporate Money, Speech, and Politics." Bopp is General Counsel for the James Madison Center for Free Speech and was lead attorney for Citizens United, the group that argued their corporate 1st Amendment "speech rights were violated when prevented to air a political program just prior to the election."
The "debate" turned out to be one-sided – with Cobb presenting a much stronger case for why corporations should not be granted "personhood" rights and money should not be granting "free speech" rights than Bopp arguing the reverse.
Watch the debate at https://www.youtube.com/watch?v=ijSsZdCatTM
December 25
2015 – Christmas – Jesus attacks "money changers"
Celebrated birth of Jesus Christ in Christian calendar.
In his only public act of violence, Jesus drove the "money changers" with a whip of chords out of the sacred Temple in Jerusalem, which he called "my Father's house."
Modern-day money changers are banking corporations – the most economically and politically dominant of all corporations. They have captured our most sacred democratic "house" – our government. They, too, along with all other corporations, need to be driven out of our government.
December 26
2015 – Boxing Day - corporate personhood, money equals free speech and U.S. Constitution "boxes" activists into small spaces of what is doable
"Boxing Day" is an annual holiday celebrated in the United Kingdom and other Commonwealth nations. Traditionally, it was when servants or employees would receive gifts from their bosses or employers in "Christmas boxes."
Many Supreme Court decisions anointing corporations as legal "persons" and money as "free speech," as well as many limitations of the U.S. Constitution (i.e. no direct election of President, no national initiative provision, no definition of economic rights, among many others) have been anything but gifts to individuals striving for real democracy. They have, rather, "boxed" activists into ever-smaller spaces concerning what laws and regulations can be passed. Unable to limit the amount of money in elections from individuals and corporate entities and incapable of preventing corporations from asserting Bill of Rights protections, the super wealthy and corporate entities have captured greater portions of public policies and public spaces and, in turn, shrinking these public arenas for the vast majority of citizens.
For background on limitations of and possibilities for a more democratic Constitution, see http://poclad.org/BWA/2007/BWA_2007_DEC.html and http://poclad.org/BWA/2007/BWA_2007_MAR.html#3
December 27
1907 – Death of John Chandler Bancroft Davis – unilateral action yielded first Supreme Court corporate "personhood" decision
Davis played a historical role in the corporate personhood debate. As the court reporter in Santa Clara County v. Southern Pacific Railroad (118 U.S. 394, 1886), his responsibility was to prepare 'a summary-of-the-case commentary.' He wrote in the headnote to the decision that Chief Justice Morrison Waite began his oral argument of the court's opinion by stating, 'The court does not wish to hear argument on the question whether the provision in the Fourteenth Amendment to the Constitution, which forbids a State to deny to any person within its jurisdiction the equal protection of the laws, applies to these corporations. We are all of the opinion that it does."
Davis' published reports and notes from 1885-1886 contained his views on the Santa Clara case: 'The defendant Corporations are persons within the intent of the clause in section 1 of the Fourteenth Amendment to the Constitution of the United States, which forbids a State to deny to any person within its jurisdiction the equal protection of the laws."
Thom Hartman and other journalists and authors charged Davis with a conflict of interest as previous President of the Newburgh and New York Railway in his role in the Supreme Court ruling. https://en.wikipedia.org/wiki/Bancroft_Davis
REAL Democracy History Calendar

December 28-31
December 28
1856 – Birth of Woodrow Wilson, 28th President of the United States of America – on the need for corporations and government to work together
"Since trade ignores national boundaries and the manufacturer insists on having the world as a market, the flag of his nation must follow him, and the doors of the nations which are closed against him must be battered down. Concessions obtained by financiers must be safeguarded by ministers of state, even if the sovereignty of unwilling nations be outraged in the process." http://www.washingtonsblog.com/2014/09/usa-sponsored-terrorism-mid-east-since-least-1948.html
1947 – Birth of Spencer Bachus, former Republican Chair of the US House Financial Services Committee – regulators serve banks
"In Washington, the view is that the banks are to be regulated and my view is that Washington and the regulators are there to serve the banks."
December 29
2014 – Big money breaks out: Top 100 donors give almost as much as 4.75 million small donors combined
"The 100 biggest campaign donors gave $323 million in 2014 — almost as much as the $356 million given by the estimated 4.75 million people who gave $200 or less," a POLITICO analysis of campaign finance filings found.
'When 100 big donors give as much almost 5 million small donors, with whom do we expect candidates to spend their time, and whose interests do we think they will represent?' McKinnen asked. 'That's not democracy. That's oligarchy.'"
Read more: http://www.politico.com/story/2014/12/top-political-donors-113833#ixzz3ta7ebjxE
December 30
2011 – Pittsburgh City Council passes resolution calling for a constitutional amendment to abolish corporate personhood
The resolution also called for returning elections to the American people.
December 31
1945 – Birth of Harvey Wasserman – exposes fraudulent electronic voting machines
Wasserman is an anti-nuclear and safe energy activist, journalist and senior editor of the Columbus Free Press. He has co-authored numerous articles with Bob Fitrakis on election fraud of elections since 2000, with special emphasis on the 2000 and 2004 election results in Ohio.
Wasserman and Fritakis have recently written.
"The way our electoral process now stands, electronic voting machines guarantee a Republican victory in 2016…
"Source codes remain "proprietary," so the public has no control over the private machines on which our allegedly democratic elections are conducted. There is no usable paper trail, transparency or accountability.
"We are concerned that all voters get fair access to the polls, and all votes are fairly counted, no matter who the candidate. We have no doubt the Democratic Party would be just as willing to flip elections from Republicans as vice versa, and that both have, can and will do the same to the Green Party and other challengers.
"So we support universal hand-counted paper ballots, automatic universal voter registration, a four-day national holiday for voting, major restrictions on campaign spending and a wide range of additional reforms meant to guarantee some kind of democracy in the United States."
http://www.truth-out.org/news/item/31511-why-hillary-can-t-win
Democracy Insurgency Curriculum
November/December 2016
Featured Poclad Article
Trumped Up Democracy

10 Reflections on the 2016 Elections and the Future
by Greg Coleridge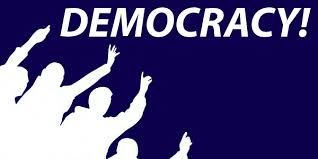 Trump up: "to devise deceitfully or dishonestly, as an accusation; fabricate." -dictionary.com
The 2016 election was one massive and long trumped up affair – full of deceit, dishonesty and fabrications. The perpetrators were both major Presidential candidates and their campaigns, although it more often than not seemed the very phrase was coined upon hearing and seeing Donald Trump on the campaign trail over the last 18 months.
It's critical to understand the social, economic and political context of the election; the lessons learned from his campaign; the inherent economic and political flaws of our system that led to his rise; and the implications for people dedicated to peace, justice, democracy, nonviolence and sustainability over the next few years.
What follows are 10 reflections based on the above.
There's always a context for any event that should be identified for better comprehension. In the case of the 2016 election, there were a number of significant economic, political and social realities.

Economic context: Large sections of our nation, particularly the Midwest, haven't recovered from the deindustrialization following the movement of manufacturing abroad, especially to Mexico and Asia. Large sectors of the economy have seen massive technological changes with machines replacing workers. A cause and result of these changes have been the gradual "financialization" of the economy since the 1970's (and most rapidly since the late 1980's) with money from the financial industry shifted from the "real" economy where companies produced goods and services toward financial "products" and short-term speculation in anything yielding greater returns. There was no significant recovery from the Great Recession in many parts of the nation despite what many politicians and media pundits kept repeating. Economic anxiety, job loss, wage stagnation (despite increased worker productivity), decline of benefits, rapid increase in the rich-poor gap of wealth and income, expansion of welfare payments, increase of the national debt, and overall inability to have a voice in the economic direction of lives and communities are just a few of the impacts.

Political context: The combination over many years of the inability to be heard by elected representatives of both major political parties, government bureaucrats, and regulatory officials on the one hand and growing visible political corruption – evidenced by the relevant Clinton Foundation pay-to-play emails — shifted in the minds of many of a perception that the political system is fixed to benefit "the establishment" to a reality. Huge investments of campaign contributions to established political candidates, both Republicans and Democrats, by the super rich and "special interests," beginning in the primaries, worsened by the Citizens United vs. FEC 2010 Supreme Court decision, added to the sense of outrage. The belief of many Trump supporters that turned out to be false was the charge that there was massive voter fraud by the Democratic Party that funneled legions of undocumented immigrants to the polls and organized the same individuals (mostly inner city African Americans) to vote multiple times. What was fact was voter suppression where multiple states erected barriers for certain groups of individuals (i.e. people of color, low income, students) from voting and purging individuals from voter rolls.

Social context: The public re-emergence of xenophobia against Mexicans (who were supposedly stealing domestic jobs from US citizens) and Muslims at home and abroad, racism against African Americans (including President Obama), sexism against women (including Hillary Clinton) and homophobia against the LGBTQ community were fueled by Trump and the right-wing media in response to widely felt cultural "political correctness" (but what others called simple anti-prejudice) throughout large segments of the white community. Many whites saw the rise of the Black Lives Matter movement against police brutality and for basic human dignity as a threat to the police and to law & order. Many from rural areas and "fly over" parts of the country felt the bi-coastal "liberal establishment" ignored or mocked them. US national "pride" was seriously tarnished by Russia's Putin, ISIS, China, and Syria's Assad who crossed the US imposed "line in the sand" without consequences. Working people and whites were angry, frustrated and desperate.

Donald Trump possessed just the right combination of skills and traits to connect with disaffected whites and working people. He was well known in cultural, economic and political circles, was comfortable in communicating directly through the popular media, projected himself (the consummate business insider) as the political outsider, was exceedingly confident in his ability to accomplish anything and repeated ad nauseam about "winning"— boosting the hopes and morale of people who felt on the economic, political and social defensive over the last decade or more. Trump provided the unequivocal and confident voice these individuals didn't have.

Several of Trump's strategies and tactics were an assault on basic democracy principles.

Even when his statements were documented as false by the media or opponents, he continued to intentionally repeat them – following the adage of "if you just keep repeating something over and over, eventually people will believe it." Facts simply didn't matter. Voters didn't seem to care. Emotions trumped the truth.

He comforted supporters by proclaiming, most forcefully during his acceptance speech at the RNC, that he and he alone would solve all problems. Citizens only needed to vote for him. No further engagement was necessary. Not to worry about holding him accountable. Don't bother aligning with others in organizing to challenge people or institutions. He had it covered.

His racist, sexist and xenophobic remarks divided and thus weakened individuals and constituencies who shared much economically and politically in common and who could have effectively held him accountable.

While exceedingly long on promises, Trump may have provided the least specific plans on issues of any Presidential candidate in modern times. It was thus impossible for voters to judge his ideas and plans. Generalities abounded while specifics were absent. Perception became reality.

Trump co-opted humane populism. His rhetoric against Wall Street, the "rigged" political system, big media, trade agreements like NAFTA that exported jobs, and the "political establishment" connected with voters. His lack of specific solutions and linking his populist rhetoric to hatred and prejudice, however, undermined long-standing community-based and democracy groups who have made the same accusations minus the hatred of historically oppressed constituencies. Moreover, it tarnished the very legitimate need to expose and offer alternatives to our economic, political and media institutions controlled or captured by the wealthy few and corporate interests. Trump's populism is very different that the bottom-up populism affirming the dignity and respect of all people.

The major corporate "mainstream" media is in partly responsible for Trump's ascension. Media over exposure of Trump was 24/7. The corporate press, whether supportive or antagonistic, couldn't help themselves. Trump and the corporate media needed one another. Major corporate "mainstream" network and cable TV and news dailies have seen viewers and readers plummet. His simple, stark, controversial and often-bizarre statements produced massive ratings and profits for the major corporate press, which is primarily in business after all to make a profit – whether that's done by covering news objectively or sensationalizing statements or event. A Trump Presidency is a dream come true for the corporate press. While not per se "the press," Facebook in particular also played a role in permitting unedited a flood of "fake news" stories to appear in their newsfeeds – a disproportionate share of which either supported Trump or attacked Clinton. As a side note but related, the corporate "mainstream" media almost completely ignored anything from the two major alternative parties and their candidates – Libertarian and Green.

Key promises made during his campaign will be impossible to deliver. There will be no Mexican wall with the Mexicans paying for it. The physical and financial implications of such a project are monumental. Manufacturing plants with hundreds of thousands of jobs will not return stateside. Those few that may will employ far fewer workers due to automation. Trump's commitment to support working people in general, however, must be questioned given his history of unjust treatment of workers at his own companies. Hillary Clinton will not be locked up. ISIS or the next manifestation of extremists will continue to resist those opposing Western occupation of the Middle East. His suggested requirement that all Muslims in the US carry a special ID card noting their faith is flat out unconstitutional. Serious efforts, however, will be directed at implementing other promises. These include abolishing Obamacare, deporting immigrants who are not citizens and have remained beyond their legal duration, and gutting scores of laws and regulations protecting workers, consumers, communities and the environment.

When it becomes apparent that Trump can't or has no interest in delivering on many of his promises, especially those to improve the economy, blaming "the other" will quickly surface as it did during the campaign, most definitely when the next economic bubble bursts sometime during his administration, with the impact far more severe than during the Great Recession. African Americans, the poor and immigrants will be "trumped up" as the most likely targets for blame. This will strongly resonate with that part of his most loyal base that saw his victory as legitimizing hatred, bigotry and misogyny. Divide and conquer is a time-tested technique to prevent solidarity against oppression. Expect it to used over and over again. Knowing that their tenure may be short, expect to see laws proposed and passed that seek to reduce civil rights and liberties, disenfranchise voters and make it more difficult to organize. Of course another time-tested technique by those in power to distract from economic difficulties at home is warfare – expect his administration to stoke the flames of conflict in many regions of the world.

The administration of the self-described political "outsider" will include many political and economic insiders. That's what happened with Barack Obama as his campaign's economic advisors were replaced with Wall Street insiders after his election but before he took office. Expect those with direct ties to Wall Street and the military industrial complex to assume key roles in his administration. Long time right wing Congresspersons and Senators with a demonstrated track record of promoting policies harmful to women, working people, and people of color will be prominent voices surrounding him.

It's going to be a very difficult period for a majority of individuals in the US (and many abroad), but most brutal for women, people of color, immigrants, Muslims, and even working people – many of whom voted for Trump. We must build unity domestically and internationally around issues and constituencies. Those targeted, especially individuals from communities historically oppressed, must become the main voices that the rest of us listen to and legitimately work with. Much of our support work will need to focus on resisting proposed economic, social and political policy assaults. This means mass education, advocacy and organizing, including amassing power through mass lobbying, mass public demonstrations and strategic forms of civil disobedience.

Since the President, the House and Senate are now all in Republican hands and the Supreme Court likely to remain "conservative" following the appointment of the open seat by President Trump, those dedicated to justice, peace, democracy and sustainability can't depend on government for protection.  We must resist the horrors to come by building truly independent, diverse and democratic mass movements. However, we must be extremely wary of being co-opted by the Democratic Party, which is where social movements historically have gone to die. The Democratic Party largely ignored or was sometimes even hostile toward mass movements when in power, be it Occupy, Black Lives Matter, many environmental campaigns and Move to Amend. Many who previously focused on the electoral arena will now gravitate toward movements now that they possess virtually no formal power. Social movements should be open to those from all parties (Democrats, but also Republican who voted against Trump in the primaries and many who may have voted for him in November who will come to oppose his policies), but only if they commit to principles of justice, peace, democracy, nonviolence and sustainability. Movements for change cannot be co-opted.

It will not be easy, but it's imperative that people of conscience to not simply respond to harmful proposed laws and regulations. There must also be an intentional commitment to exposing the fundamental contradictions of our political and economic systems. Donald Trump lost the popular vote, yet will become President because of one of numerous profoundly undemocratic provisions of the U.S. Constitution – the Electoral College. Our political and economic systems are fundamental unsustainable. The environment is headed toward a profound collapse. Relations between blacks and whites and between men and women have further deteriorated. The Trump years will hasten these crises, forcing more than cosmetic changes to be considered. They will provide openings to examine and advocate for multiple avenues to democratize our society in all its forms – constitutionally, politically and economically – from the local to the global. They will widen the awareness of how corporate constitutional rights violates basic democratic self-governance. They will create the space to reveal how our banking-controlled, debt-based monetary system contributes to the plunder of the planet and climate change. They will further expose the entrenched racism and patriarchy in our culture and institutions. They will widen and deepen the local building of alternatives that individuals can control which meet basic needs without relying on large-scale institutions. And they will cause serious reexamination of the US military, economic and political role in the world. It will not be easy to counter the "trumping up" that will surely come in all its forms that seeks to distract, distort and discombobulate. Keeping our "eyes on the prize" to (a) resist the multiple assaults to come, (b) promote profound structural alternatives and (c) build local alternatives that meet immediate needs must become our direction as we lay the groundwork for a just and sustainable transformed society that comes next.
Make a donation to POCLAD. Funds are needed for speaking, conferences, research, and minimal organizational maintenance. Contribute online at http://poclad.org/donate.html or by sending it to POCLAD, P.O. Box 246, S. Yarmouth MA 02664. For a tax deduction, send your check of $50 or more -- earmarked for "POCLAD"-- to the Jane Addams Peace Association, 777 United Nations Plaza, 6th Floor, New York City, NY, 10017. Thank you!